Grand Baltic, St. Petersburg & Norwegian Fjords
on MV Aegean Odyssey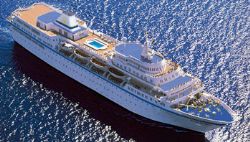 Grand Baltic, St. Petersburg & Norwegian Fjords
Aegean Odyssey enters the waters of the Baltic for the first time ever on this magnificent maiden cruise featuring visits to the Scandinavian capitals of Stockholm and Helsinki, as well as the historic ports of Tallinn, Gdynia and Warnemunde. You will also experience an incredible two-night stay in the Russian cultural capital of Saint Petersburg, home of the second largest art gallery in the world,
...
About Voyages to Antiquity

We have created a cruise experience which is designed for travellers who want to understand more about the history, culture and natural wonders of the ancient world. Our small ship, Aegean Odyssey, is perfectly suited to our destination-rich itineraries while our lecture programme connects you with the places you'll visit before you even go ashore.
SMALL SHIP CRUISING AT ITS BEST
The size of our ship allows us to visit harbours other vessels cannot reach, mean
...